Why MBA in Finance from Best Management Colleges in Delhi? This is a question that raises by many students after completing their bachelor's degree program. MBA in Finance is undoubtedly an excellent choice for students, who are genuinely looking for a career in the field of finance. A good reason to consider why MBA in Finance is it offers to perform various administrative roles in the domain.
To assist students with the many remunerative job opportunities after MBA in Finance and building an excellent career in the field of finance. In this blog, you will get in-complete knowledge about an MBA program, what are its different areas of specialization, and why you need to do an MBA in Finance.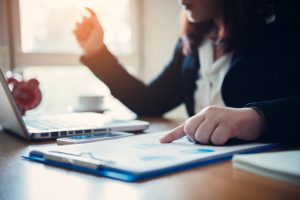 What is MBA in Finance?
Master's in Business Administration (MBA) – Finance imparts know-procurement, investment, control, and review of the collection and resources of money. The course offers opportunities to understand the field of finance more widely. MBA in Finance is provided by all the top B-schools in Delhi NCR.
The eligibility criteria for MBA in Finance is the same as the MBA (General). Mostly, all the institutions admit applicants on the basis of entrance exam (XAT, SNAP, CAT, MAT, GMAT, and others) scores.
An MBA degree in finance is surely the best way to secure lucrative employment opportunities. Such a degree helps students get an insight into how the finance department functions, different financial theories, and how to solve different financial problems.
What does MBA in Finance cover?
An MBA degree with Finance specialization prepares candidates for careers in the domain of financial planning, financial decision making, accounting, corporate finance, and banking sector. Best Management Colleges in Delhi focus on investments and investment strategies, corporate risk and insurance, global and domestic economics, mergers and acquisitions, and financial theories.
Great career prospects and job opportunities
MBA in Finance from Best Institute on Management in Delhi offers lucrative career options in this domain. As already mentioned above, the finance sector is expanding with the number of career opportunities. With a degree in MBA (Finance), you can work with the following:
Financial planning service providers
Investment banking companies
Tax planning companies
Stock markets
International financial management companies
Insurance companies
Credit unions and private banks
Commercial and investment banks
After completion of the MBA program in finance from Best Management Colleges in Delhi, graduates have immense job opportunities in the government and private sectors. They can work with any financial company or operate in the stock market. Besides, anyone with an MBA degree in Finance can run his or her own business.
Job roles awaiting MBA Finance graduates include:
Treasurer and Finance Officer
Finance planning officer
Tax planner
Accounting Manager
Auditor
Financial Advisor
Cash Manager
Insurance and Risk Manager
Investment Banker
Chief Financial Officer
Financial Analyst
Manager Consultant
Investing Sales Trader and Associate
Investment Banking Associate