Bachelor of Business Administration (BBA) is among the most popular undergraduate level management course and every year thousands of candidates apply after completing their 12th standard. 
The BBA admission exam is organized by Top BBA Colleges in Gurgaon to examine and evaluate the performance and personality that is needed in the future manager. Hence, appearing for the entrance exam is a compulsory measure to attain admission in the best college for BBA.
Unquestionably, The exam demands a lot of practice, patience, and hard work to shine and obtaining a seat in the top BBA College in Gurgaon. But, it is important to note that as a dedicated aspirant you can also prepare from your home, without taking part in any coaching classes. 
In this blog, we will guide you on how you can prepare for the BBA entrance exam without going to any coaching center. You can create your personalized preparation plan, chalk-out your day to day tasks to fulfill, and can begin your preparation right away.
Considering BBA is an undergraduate level management course, it is targeted to examine your abilities up to class 10th usually. So, let us look into in-depth on how to prepare for the forthcoming BBA entrance exams and the best strategy to decode the test in 1st attempt.
In a standard BBA/BMS/BBE entrance exam, applicants have a choice to either 
– Attempt 100 Questions in 120 Minute
Or
– Attempt 150 Questions in 120 Minutes
This makes it obvious that the candidate should be great at time administration to solve the questions and should have done the thorough practice to crack the exam in advance.
If you are an applicant looking to take admission in Top BBA College in Gurgaon, here are some steps that you must follow to fully prepare for the entrance exam:-
A Complete Guide To BBA Entrance Exam Preparation
Section-wise preparation strategy
One of the most challenging and critical parts in the exam is the Quant/Maths section for which the majority of applicants demand guidance. Specialists advice that applicants should begin preparing elementary Math, speed Math, Vedic Maths to whisk up their abilities. 
A fair balance of pace and precision is required to solve the Maths part of the test paper. For the General Awareness division, you must read the newspaper on a frequent basis to stay refreshed with important and current issues. 
Usually, around 50-60 percent of the questions in the GA section come from the current general events and the rest are from static GK. 
To attain good marks in Vocabulary, Grammar & Verbal ability part, you must inculcate reading habits. Read a lot of books, newspaper, and buy a textbook devoted to the Verbal ability section.
Practice test using Clock/ Time
Another crucial tip that you must keep in mind is to practice the MCQ with a timer. This habit will help you in limiting your time to answer various questions. In multiple exams, the common time to answer per question is restricted to 30 seconds to 1 minute. Hence, timer-based exercise is imminent.
BBA Entrance Preparation without Coaching
According to various experts, it takes approx 8-10 months of dedicated preparation if you want to take admission in Top BBA College in Gurgaon without coaching. But, if you join coaching institutes, they will make sure that you are ready for the exam in 1 & 1.5 Months.
The choice of whether to study on your own or join coaching is entirely yours. Just note that the early you begin your preparation, there is no requirement to join classes and pay a hefty fee to decode the BBA entrance exams.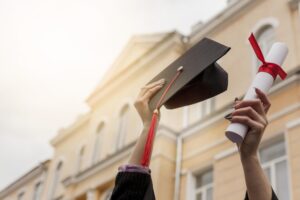 Since the questions in the exam mostly include the concepts we have learned from Class 5 to Class 10, you should start with the elementary books. 
Only the knowledge of class 10 and 12 are tested in the Maths section. Hence, it's the right time for you to begin focusing right from the start. Make sure your notes are short for quick revision. 
Memorize all the formulae and theories to solve the questions.
Learn tricks and shortcuts
No person can score high in the entrance exam by solely following the conventional way of solving that you learned in school. They are long and time-consuming and you'll end up missing a lot of other questions.
Therefore, focus on learning new tricks and shortcuts that will help you get answers in a matter of seconds. You can get those tricks from any coaching or online portals. 
Lastly, do not ignore the negative marking in the BBA entrance test. A lot of great BBA College in Gurgaon includes the negative marking formula in their test pattern. So, make sure to think twice before marking an answer. If you are unsure just skip it for later or forever. It's better to leave a question than answering it incorrectly.