In today's scenario business studies have become a popular choice for students who are looking to pursue under-graduation and post-graduation in Top B School in Delhi NCR. With the gradual growth in the business sector, the job market is also expanding. There is no lack of training for students as management studies guarantee not only jobs in respectable companies but also a comprehensive understanding of the different functionalities. Therefore, it is of utmost importance that you choose your business school carefully before enrolling in one.
Significance of choosing the right college
Your college plays an integral part in determining the quality of education you receive. Therefore, choose it carefully. Completing business studies from a reputed Top B School in Delhi NCR gives you exposure to not only bookish education but all kinds of real-life exposure that one requires to make it big in the business sector. Choosing the right business institution has several benefits:
Opportunity for quality education
Get taught by experienced faculty members
Availability of better and updated facilities
The better option for holistic development
Good job placement
While we all understand the importance of choosing the Top B School in Delhi NCR, the question is how to select the right one. When you are looking for colleges, the first and foremost thing to do is to make a list of things that you want in your institution. Once you have determined the points, and then research various colleges yourself instead of following your friends. There are several things to consider before enrolling in a top B school. Following are the top 7 points that you must consider before getting admission in any business school in India.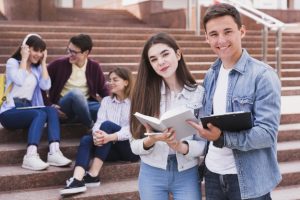 Qualified faculty members: One of the most important things to consider before getting enrolled in a top B school is to see whether they have experienced and talented faculty members with a real business background. For a course such as business studies, it is best to be nurtured by someone who has real experience. Faculty members who have themselves worked in reputed companies will be able to offer much more than just academic knowledge. They will know about all the tricks that one must apply while working in the business world. They will also have various connections within the industry that can be used to help students in their career opportunities. Therefore, it is best to get into a college that has a very strong and qualified faculty team.
Good ranking: One of the best methodologies of choosing the right Top B School in Delhi NCR is by checking its ranking. An institution with the ranking from a top publication works as a great tool to compare the education quality, alumni, recruiter reputation and several other things. Studying from a good ranked college will also help in the long-run as well. It helps to create a positive image for business firms and gives you an edge over others
Availability of management programs: The business world is ever-expanding and is therefore not just restricted to a handful of sectors. Make sure that the college you choose offers a variety of majors and subjects in business studies. This will not only help you to specialize in something niche but also makes you unique and therefore improves your chances in the job market. The business market is always in search of people with unique specialization. Having a degree in such subjects can be thoroughly beneficial for you in the future.
Alumni and placements: While your business course educates you about running businesses and gives you ideas of real-life hacks, tricks, and tips for establishing your own, securing a job is also significant. So, when you are looking for taking admission toTop B School in Delhi NCR make sure that provides you with good on-campus placement opportunities. Though no college promises to offer 100% placement, a college with a decent percentage of placement makes a big difference and improves your chances of getting a job easily.
Infrastructure: In addition to education, infrastructure also plays a major role in the holistic growth of a student. Therefore, when it comes to selecting a college, you must make sure that the institution has an adequate infrastructure that will contribute to your growth. A Top B School in Delhi NCR should have a well-stocked library, an updated computer lab, sports facilities and a classroom containing all the basic necessities. Besides this, there are several other things you must consider such as availability of hostel, playground, mess, and medical facility.
International exposure: The business world today is not just restricted within the boundary of a certain country. It has expanded globally and hence it demands professionals who can handle the global market. To fulfil this requirement, students also need to have international exposure to understand foreign policies, cultural differences and be able to come up with a solution that suits the global market. International exposure such as, an opportunity to study at other international institutions through an exchange program is significant. Through this student will get the first-hand experience of professional situations and also skills to deal with them.
Campus ambience: The campus of your institution plays a major role in building a student's mental strength and character. Therefore, before joining a college, you must get through the college's history, reputation, and experience of previous students. Healthy campus life will enhance your academic experience, social and professional skills to make a career in the business world.
The decision of joining an institution is vital and it can impact both personal and professional life. Therefore, it is of utmost importance that the college you choose has, if not all the factors mentioned, at least some of them. Enrolling in a good college helps you with acquiring all the skills you need for handling various tasks and handling multiple teams and above all learn the right way to do business.